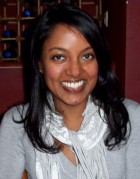 I'm a writer, mainly for Fast Company.
Based in Amsterdam, my writing revolves around science and technology in the global marketplace and tends toward women in tech. My writing has also appeared in the New Statesman, Science and The Atlantic Cities (now CityLab).
Until it went offline in March 2015, I was a senior writer for Fast Company's tech vertical, Fast Co.Labs, where I wrote about cool things happening on the Internet. I still write about that, plus awesome technology that could shape our future. Before my life as a freelance writer, I developed software and was a product manager at an engineering conglomerate, where I learned a ton about how manufacturing expands globally. I have two engineering degrees, one from Northwestern University and one from TU Delft, as well as a management degree that, in its uniquely British way, only the UK government recognizes.
I'm originally from Chicago and split my time between there and Amsterdam, where I live with my husband and our baby son.