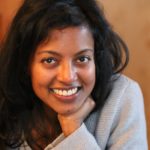 I am the Benelux blogger for ZDNet and am based in Amsterdam. I also freelance for other North American and British outlets, like the Guardian, WIRED UK and Fast Company.
Here are the things I enjoy covering: (bio-)hardware, the intersection of art and science and technology, scientific research, health, and information preservation. You can find my most recent work on my blog and my resumé here.
I'm originally from Chicago and split my time between there and the Netherlands, where I live with my French husband and our baby son.
tinamirtha [at] gmail [dot] com