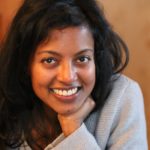 I am the Benelux blogger for ZDNet and am based in Amsterdam. I also freelance for other North American and British outlets, like the Guardian, WIRED UK and Fast Company.
Here are the things I enjoy covering: (bio-)hardware, the intersection of art and science and technology, scientific research, health, and information preservation. You can a selection of my work here and my résumé here.
I'm originally from Chicago and split my time between there and the Netherlands, where I live with my French husband and our baby son.
tinamirtha [at] gmail [dot] com